This is the ninth part of a 12-part series featuring snippets from our new book, Team by Team. The only team building book ever written by the actual team. You can buy the ebook here.
Articles in this series:
---
The power of engagement
High-performance culture starts with engagement. If your colleagues around you are not engaged, it will be almost impossible to form a high-performing team. Creating an environment where there is interaction not just interest is key, as is illustrated by social media. We want co-workers to be "commenting, not just liking".
"Companies with high levels of employee engagement improved 19.2% in operating income while companies with low levels of employee engagement declined 32.7% over the study period." – Tower Perrins, HR Consultancy research firm.
The discretionary effort model (see graph below) demonstrates how a company could suffer in terms of performance if individuals operated at just a "have-to-do" level of effort. The task within an organisation is to create an engaging atmosphere whereby people are operating on the "want-to-do" curve not the "have-to-do"curve.
Employee engagement can be increased through a variety of methods.
Shared vision
One way of creating engagement is to produce a shared vision. A goal that unites the group around us is sure to capture everyone's attention and start the journey from a working group to a high-performing team.
Surveys
Honest responses to surveys provide a fantastic insight into the motivation of employees and what their main concerns are. This information can be used to construct a highly engaged workforce.
Know your team
Understanding strengths and weaknesses as well as key individual values are useful in constructing the layout of the highly engaging workplace – incentives might be used, for example. Being supportive and considerate can count for a lot when working towards total engagement too: "Employees who believe their managers can name their strengths are 71% more likely to feel engaged and energized" – The VIA Institute on Character.
Take ownership
If you want to reach the level of high performance faster than your competitors, it is important not to just rely on others to engage you. Take ownership of your engagement at work.
Energy is everything
It is key to understand that energy, not time, is the fundamental currency of high performance. Organising yourself to work in small, highly focused sprints is a great tip to ensure you are more engaged throughout the day.
Engagement in the workplace is crucial to building high-performing teams that will take your career to the next level. Optimizing your energy and ensuring everyone is engaged is the first step to success.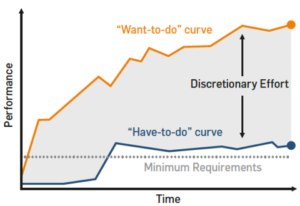 Above: The Discretionary Effort Model
---
Download Team by Team on Amazon Kindle here.