This article is the third part of this five-part series focussed on Workforce2035.
---
Did you know: "the biggest threat to innovation is internal politics and an organisational culture which doesn't accept failure, doesn't accept ideas from outside, and/or cannot change. "*
In order to thrive in an innovative territory, you should be able to embody entrepreneurship and speed.
Entrepreneurs can identify new knowledge, products or an exciting service gap and apply their tenacity to making things happen.
Agile's main goal is to enhance and encourage innovation and to do so quickly and at scale, without the risk. Speed means taking critical advantages of market trends, deploying resources quickly and plugging gaps allowing you significant advantages over the competition.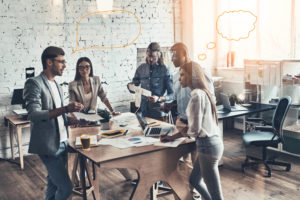 Bets and risk-taking

In innovative territories taking risks and placing bets are crucial behaviours to maintain momentum. The concept of 'no-regrets bets' is meaningfully applied here. It means that solutions can be adapted or reversed easily, as well as iterated upon. Risks become the route to reward, rather than the obstacle. Implementation becomes fast and easy when the tolerance for risk is high and employees advance in the knowledge that changes can just as easily be rectified.

Small scale innovation


Small scale innovation is a great way to incorporate a creative culture. Applying simple, people-focused tactics that have been tested in business such as building community and creating environments where teams can practise shared company values within the business means you can embed innovation from the ground up. Other applications include questioning, listening and giving time to support the community from within. Empowering teams without inviting chaos is the balance that needs to be struck – a skill that will require practise.

Agility and grace in innovation


Speed in innovation, and specifically in Agile, is key to the sprinting and iterative process. Acting immediately on new ideas, pivots, re-sets and opportunities to scale all ensure that the end result is reached more quickly, and most importantly, before the competition. This beauty of pace allows agile teams to make quick and graceful course corrections as and when is needed.

Innovative dialogues


Connectivity and communication between team members not only aids the profit margin and wellbeing, it enables ideas and thoughts to be shared. The birth place of innovation is found at the intersection between diverse minds and open, collaborative dialogue. Encouraging these dialogues, even over a coffee in the mornings or just after lunch, gives space for innovation to grow beyond infancy. As a leader, recognising that this space is just as important as other work and communicating that is vital. Divergent thinking is equally valued in innovation-based dialogue.
Someone with an innovative mindset is at home in this new world of work. They see failure as learning opportunities, demonstrate ambition and ingenuity, they act fast and often. Workforce 2035 needs innovation.
*2016 Gartner Financial Services Innovation Survey
---
'Workforce2035' is the focus of our SpeakEasy event on 13th June. Find out more and book your place here.
Next in this series: High Performance Worlds and their Principles for Success