My year at IW has been full on. Honestly, there is never a dull day in the world of IW. We don't spend time twiddling our thumbs and watching the clock tick until 5pm, instead we are buzzing in and out of hacks, running short and sharp sales catch-ups and writing copy for Amazon bestsellers (check out our latest book called Team by Team, the only team building book actually written by a team.) When you are part of a fast-growing organisation, full of passionate and energetic people, the days just fly by. Whilst there have been many 'firsts' during an intense 'first' year in L&D (delivering on my first expert module, publishing my first article, fronting my first senior leadership programme) earlier this month I felt like I really grew up when I took a new client from first meeting all the way through to their first project with us; delivery of multifaceted programme reaching over 350 people across their organisation.
Amazing opportunities came my way when I took a step out of my comfort zone and put my hand up for the challenge.
Here's some lessons I learn along the way:
Relational always wins
It was almost six months ago that I first met the client and it was completely unexpected. I was in the office on a cold and wintry November day when Interactive Workshops's CEO and co-founder, Jonna, turned around and said 'does anyone want to go to some networking drinks? There'll be free Prosecco and canapés!' I was sold. My hand flew up. Of course I arrived early and made my way into the venue, chatting to the hosts and picking up my first (of many) free glasses of Prosecco. At the bar I got talking to two lovely guests about Birmingham (my home town and one of theirs) and where they worked. We just got on. It didn't feel like a 'work' chat, but next thing we were talking about projects and maybe working together. We said, 'let's grab lunch next week'.
"Making conversation and getting to know people without a specific work agenda builds rapport and trust."
Fast forward six months and I was standing in a training room with the senior leaders of that client and facilitating a session on creating a feedback culture. It hit me. This is really happening. This whole project came to fruition because of that first friendly conversation; reminiscing over the pitfalls of the Brummie accent (there are many) but also the pride we have for where we are from. Just making conversation and getting to know people without a specific work agenda builds rapport and trust. If they like us as people and don't feel like they are being 'gamed', they are much more likely to want to work with us.
Get an early win
We booked in the lunch. I brought Jonna along. After some delicious food and some probing questions from both parties the project was identified.  Dessert arrived and we discussed if there would be an opportunity to work together on it. But we both knew we needed to get more under the skin of the project. So, a scoping workshop was booked in on the walk back to the office (low risk for the client – they were essentially taking us for a test drive).  However, before they were willing to drive away with the key, we needed to win more trust. We needed to get an early win. After the scoping we walked them through a proposal, they liked the idea but wanted to see us on our feet (naturally  they wanted proof that we were as good as we thought we were  – FYI we are). We needed to show the IW values in action; sharp, intriguing, energetic and dynamic, so we booked in a pilot workshop. On an unusually hot day in February we trialled the content for the 'Get More Feedback' module which was aimed at encouraging people within the organisation to be bolder and braver in their quest for feedback. It would've been hypocritical of us not to ask for feedback after delivering it (not to mention make a pilot irrelevant). Luckily the 'What Went Wells' outweighed the 'Even Better Ifs' and next minute we were drafting out content for two other modules, coaching slots, webinars and a board session all to be delivered over a week. The trust was won. The project was on.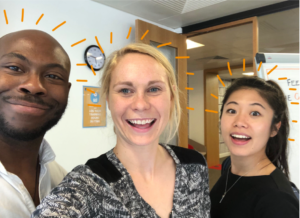 Own it
After the scoping, Jonna pretty much left me to it. Yes, he checked in and provided support when I asked (sometimes challenged) but he backed me. Instead of pulling in a more senior team member to take the project forward, it was mine. I often joked that it felt like 'we'd sent the kids in' but I quickly pushed the doubts out of my mind. In the words of Amy Cuddy 'Fake it until you become it.' I loved that I had seen the project from conception and was also allowed to take it through to completion. Colleagues would ask me questions about the project, and to my surprise I actually knew the answers! There was a time when I could've handed the project over (especially when I was given responsibility in January for one of our biggest clients) but it just didn't feel right. I knew it would stretch me, not just in terms of capacity but also in terms of knowledge and leadership and I wanted that challenge. It is through owning something that we grow.
It doesn't stop there; for the client or for me
At IW we like to lunch (please do let us know if you ever fancy one!), so of course we've got a project debrief lunch booked in with the client next week. We're hoping this might be the start of a fruitful relationship for them and for us. We think they're a great organisation to work alongside so watch this space. As for me, I think this is just the start of many projects that I take the lead on…