Shock Discontinuity.
No notice was given that the world would stop. Nothing prepares you for that day. Amidst a barrage of tips on how to work from home or turn a business virtual, none of us have yet done the deep processing to put the events of Q1 2020 in perspective. That will come later.
Myself and the management team at IW, like all organisations, first grappled with the health issue and logistics before the secondary blast hit us. The world as we know it had stopped. Not ended. But come to a halt. Like our clients, we are used to processing both Business As Usual issues and even fairly major problems. Problems we've seen before for which I remember drafting recovery plans earlier in my career as a Disaster Recovery Officer.
When people can't travel and when we are confined to home trade ceases. We are not facing a 2008/9 financial crisis. It's more akin to the cessation of commerce found in places like Syria. Some small essential trade takes place but much of everything else simply disappears. Life gets very simple. Let's call it shock discontinuity. Staring at our forecasts. Until the realisation hit us that with unprecedented uncertainty, forecasting itself no longer works. The data on which our clarity rested in normal times, no longer applies. We are in the world of guessing. And though it's been uncomfortable, I'm realising now I'm ok with that. It feels liberating.
A few weeks ago I was clearing up around the house and in tidying the shelf in the kitchen I knocked a whole bunch of things from the shelf onto the worktop. Frustrated at my own incompetence I placed the objects back and flipped the hour timer over. The hourglass above is a family favourite. There's something esoteric about making time visible. In measuring the passing moments. Only days later did I notice that, through a hole in the glass, the sand had poured onto the shelf, covering my daughter's lapel badge. A rainbow. An ancient symbol of a promise yet to come. And of hope. I see the cracked hour glass and the escaped sand merged with a rainbow a powerful set of metaphors for these current times. Of resources flowing outside our paradigm.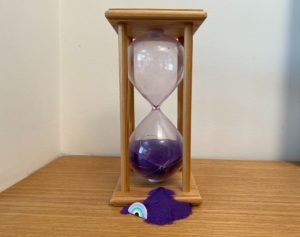 "Just fine"
In recent days we have never felt more connected as humans. I've parked my phone at 5:30pm and played with my kids. I've stopped reading endless news and picked up some great books on the kindle. In the face of the most challenging events in a generation. I've cried twice, which is rare for me. Once, tears of relief, listening to Rishi Sunak explaining how he and the government would support our company and staff. And this morning, reading my wife a portion of "Sea Stories" by Admiral William H McRaven.
Describing his visit to a huge military hospital and meeting with Brendan Marocco, an infantryman suffering loss of all four limbs and attempting rehab who, as their conversation closes, and sensing pity in the admiral's eye and says "Sir, I'm twenty four years old. I have my whole life in front of me. I'm going to be just fine". Inspired by the courage Bill McRaven then writes:
"I'm going to be just fine. If a nation is to survive and thrive it must pass on the ideals that made it great, and imbue in its citizens an indomitable spirit, a will to continue on, regardless of how difficult the path, how long the journey, or how uncertain the outcome. People must have a true belief that tomorrow will be a better day – if only they will fight for it and never give up".
Running and growing a company is and has been the most exciting adventure of my life. Perhaps like joining the military, I've had the opportunity to travel the world seeking the novel, the unexpected. Along the way we have accumulated a team that has an outstanding attitude. Forged relationships akin to sibling bonds.
The preparation for a better tomorrow starts today. I'm determined to re-enter the hourglass, the work bubble, once the system is back up and running. Offices will reopen. Commerce will flow. P&L's will revert to the predictable and forecastable tool they were before. And I know that the companies, teams and individuals that are excited about that are those who will help create a better tomorrow.
At the start of 2020 we defined a focus for our organisation. Create the Future of Work. This shock discontinuity has brought that thought into HD. We are dedicated to help organisations, teams and individuals build a better tomorrow. We are committed to supporting and inspiring that indomitable spirit, the will to continue no matter how difficult the path or how uncertain the outcome, inspiring others to do the same.
Do Good Anyway
I had the opportunity to meet philosopher Martin Wroe a few years ago (who incidentally toured the world with U2 for years as part of their support team). A wise man, he was finishing a book "Lifelines" that our company helped crowed fund in a tiny way. In it he quotes a poem by Kent Keith 1968, often falsely attributed to Mother Teresa.
People are Illogical, unreasonable and self-centred.
Love them anyway.
If you do good, people will accuse you of selfish ulterior motives.
Do good anyway.
If you are successful you will win false friends and true enemies.
Succeed anyway.
The good you do today will be forgotten tomorrow.
Do good anyway.
Honesty and frankness make you vulnerable.
Be honest and frank anyway.
The biggest men and women with the biggest ideas can be shot down by the smallest men and women with the smallest minds. Think big anyway.
People favour underdogs but follow only top dogs.
Fight for a few underdogs anyway.
What you spend years building may be destroyed overnight.
Build anyway.
People really need help but may attack you if you help them.
Help people anyway.
Give the world the best you have and you'll get kicked in the teeth.
Give the world the best you have anyway.
Learnings from Lockdown
Personally I'm committed to taking the learnings from lockdown back into the bubble with me. I hope I will go back changed for the better. Perhaps rediscovering a mindset I had in younger years where I was more of an idealist. Things I have sensed again in the last two weeks.
I want to have more time for others and be more mentally available.
I want to listen better and have a clearer mind
I want to make values based decisions not just fiscal ones
I want to be more productive and creative
I want to take deeper and better care of those I'm responsible for
I want to listen to clients more and properly understand what they hope for before rushing to ideas
I want to be patient for growth and not overstretch
I want to be honest and accurate when I speak in order to keep integrity
I want to be more emotionally level in my dialogues, so others don't have to indulge my frustrations.
I want to remember at all times to put others first.
"Delivery is my Oxygen"
For 15 years we have designed and delivered some absolutely world class workshops on leadership, influencing, sales and more. Done outstanding consulting projects. We are even pretty busy right now with learning design, webinars, coaching, support and digital projects.
Recently we have added to that offer with a creative studio producing stunning materials in film, print and digital. We have written at least 6 books. We have run webinars and done hundreds of hours of coaching. We have met thousands of business people from graduates to top execs, and maybe for a few days or a few hours, shared a part of their journey. It's a huge privilege and responsibility to be out there, working with teams to help them grow and improve. And we love it. As our team member Johnny put it in slack this week: "Delivery is my oxygen" The talent in the team is second only to their collective will and drive.
I'm very excited about using this period of enforced confinement to reflect on what will make a better tomorrow for my family, the IW family and its growing constellation of clients. Or as one of my favourite songs puts it. "Out of the ashes, hope will arise".
To our clients and connections.
If our team can help you in this time, just ask. If you need support, for your teams or companies we will do what we can. If you want webinars, we can run them. Coaching we can provide. Advice. Stimulation. Motivation. Empathy. Entertainment. If you feel lost, drop our team a message. If you want to create something for when we all get back to work, let us know. If you want to bring a team to cohesion where it feels fragmented, we know how. If you want to know how to manage workflows remotely, we can share. We are happy to do what we can, paid or unpaid till this whole show gets back on the road. If you want to advise leaders in your organisation how to cope, we are up for it. We will do what we can, with what we've got, until such times as business gets back on it's feet and returns as the beating heart we know it to be. We will all somehow be, as Brendan Marocco put it, "Just fine". After all, we have our whole life ahead of us.