This month, I had one of my favourite experiences since starting work with Interactive Workshops. (Given that my time so far at IW has involved motorbike day trips across Vietnam; sales meetings on ski slopes and sunrise jogging on Bondi Beach, that is really saying something). The venue was a lovely but fairly standard Swiss lakeside hotel, and the core topic was team building. Nothing really new.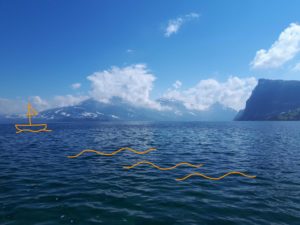 IW have been working this year to support a programme that has been running for some years, which is unusual for us. Most of what we do is new, both for us and for our clients, but in this case we were asked to support, without major changes, an existing programme.
To be honest, I had some reservations at the start as adapting our approach to someone else's framework is not always easy. Not only were the results and feedback very positive, but I was genuinely a little sad to end the week, feeling a level of connection to the team and the project beyond the normal satisfaction of a good workshop delivered.
Given that we talk in our business a great deal about the power and importance of engagement, I have been reflecting on what it was about that programme that got me so engaged…
Purpose and passion
This specific programme takes a selected group of future leaders from all around the organisation and sets them up with a project.  They have six months to prepare and test a concept for a business change initiative, ending with a presentation, to the senior management board, of recommended next steps. The challenge and topic change year by year and have often acted as research for possible directions the business might take.
This year was different. Rather than two competing teams, both had the same objective, just for different regions. The goal was to support an ambitious target in CO2 emissions worldwide, by developing efficiencies in a specific business area.
Working with a very diverse team of highly motivated people getting their teeth into a challenge, I saw a level of real moral drive and investment which we often get from a handful of truly engaged participants on great programmes.  Here, this feeling stretched across the whole team, making it a fantastic and energising experience.
"We want to see impact from our training – whether it changes the bottom line of a business or participants' lives."
Learning that's working
This is a phrase which came up in one of our marketing brainstorm sessions. We use it to highlight the focus we have on not just delivering learning, theory and ideas, but on linking these to real concrete business results. We want to see impact from our training. Whether it is a change to the bottom line of a business or personal development for participants making changes in their lives, that is what makes our work so fascinating. How to measure ROI is a constant challenge in the L&D world, but we are always looking for ways to ensure our ideas support concrete progress somehow.  In Switzerland I had the pleasure of seeing this in action. Rather than delivering a series of models and ideas and then sending away the team with a sketched out action plan, we were able to spend the full week really testing and implementing the theories that came out in the workshop sessions.  Using and adapting tools on the go, we built a real project plan.  We looked at team structure and created a shared vision of how the teams would work together over the next six months.
Great people
Last, and most obviously, it is great fun working with a team of highly engaged, highly motivated individuals. I do not often leave a workshop slightly wishing I could stay part of the team I have been working with, but sometimes we are lucky to work with a group like that, and this was certainly one of those times.