In the latest of a series of global trips, IW visited New York City in early September which turned out to be a perfect time to visit! The weather was great, not too touristy and Jonna arrived in time to sit court-side at an epic US Open final…thanks for the invite.
Of course, our main objective was to meet prospective and existing clients to build on and strengthen our relationships in the US – a territory where we often run programmes for our international clients (25% of IW team were stateside at the time!).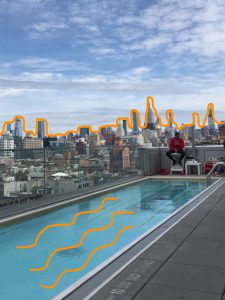 First up was a visit to a behemoth of the US telecom world – Verizon. Verizon's HQ was fascinating, the largest offices I have ever visited. It was a college football stadium short of being the size of a traditional university campus. We met with Cody and his colleagues to partake in a traditional IW 'hack'. We collaboratively planned the next sprints which includes IW revisiting for a content generation hack – something which is fast becoming our forte.
After staying the night in NJ and picking Nathan up from a dodgy looking motel (the less spoken about, the better), we met some of the Schindler training team and sampled 'the best pizza in New Jersey'. We quickly realised this was a common theme in the States…everyone's local pizza joint is the best in the state, apparently. Anyway, it was a flying visit but great to connect with some L&D professionals and understand how Schindler deploy their programmes in the US in contrast to the work we currently do with Schindler, predominantly in Europe.
Last but not least, we headed to Pratt Institute in Brooklyn – higher education is a sector IW has little experience and so we really didn't know what to expect. What we found was a fantastic group of people motivated to change the way their division operates. Leo, Diana, Joe and the team have been implementing Agile methodologies since reading The Agile Secret and have noticed an upturn in culture, efficiency and productivity. It was great to see an office Kanban just like the one we use so religiously back in London.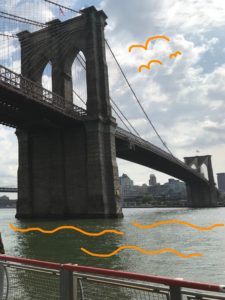 What have I learnt from my first fishing trip?
That Joe's Pizza is the best in Manhattan? Yes.
That a Ford F150 is only mode of transport you should use in the US? Yes.
But ultimately, as I strive for success in commercial opportunities at IW, I've learned that a strong personal relationship is the key to any successful business partnership. The connection and subsequent trust built when meeting someone face-to-face cannot be matched through any other medium. The long-standing mindset of building 'effortless partnerships' at IW has led to great success for our clients and for ourselves.
This fishing trip has provided some real opportunities for us to branch out into the US L&D world. I feel we have the same goal as any UK music artist that has ever lived…to crack America. This couples up well with the other thing I've learned from spending a week in NYC…I wouldn't mind spending a little longer there…