Leadership Growth
Inspiring billable senior leaders in professional services organisations to prioritise leading and team success over personal fees.
The Challenge
Billable client-facing senior leaders face a daily conflict. Today's client, project and fees connected to my bonus? Or tomorrow's client, project and fees via a well-led team?
All organisations with billable leaders face this challenge. Law firms, consultancies, accountants, investment management, IT consultants all suffer from these problems.
Culture can develop around short-term targets that make it difficult to operate in a scalable long-term way.
Short-Termism
Revenue-generating leaders focus more on this month or quarter, than ensuring a capable team is in place.
Unclear Strategy
Revenue-generating leaders become unclear whether to pursue success through team or self, and therefore contribute more than average to the team pot.
Impaired Skills Development
Constant focus on personal sales targets holds back leadership capability growth.
Improving Performance
Increasing Engagement
Business Growth
Leadership Growth
Accelerating Development
Commercial Innovation
Optimising Effectiveness
Catalysing Change
How we helped
Our research involved interviews, focus groups and pilot programmes combined with board-level guidance. We found:
Whilst the cultural narrative was fee-first, there were many outlier individuals pursuing a counter-cultural team-first strategy. Financial data showed that leaders typically contributed 50% of the team revenue, whilst comprising only 25% of the team, i.e. 300% more than each individual.
Financial modelling showed that by delegating all of the fee work, leaders could achieve the same baseline success, and dedicate themselves 100% to leadership, new business and increasing employee engagement.
To catalyse a change we implemented a six-component leadership programme focusing on strategy, not skills. Individuals began to reappraise their role through masterclasses, workshops, keynotes, 360° feedback and challenges over twelve months. Reappraising the role in this way allowed billable senior leaders to refocus their efforts on a different level of success.
The Result
Specific achievements in teams whose leader attended the programme:
Increased profit from 35% to 45% and revenue increase of 20%
Turnaround of a loss-making team from 10% loss to 15% profit
130% improvement in absence and sickness.
Project Outcomes
Culture change in client organisation
Programme Net Promoter Score of 88.7% against an industry average of 69%
Revenue Growth
Team Example A
20% growth in sales revenue YTD during programme participation.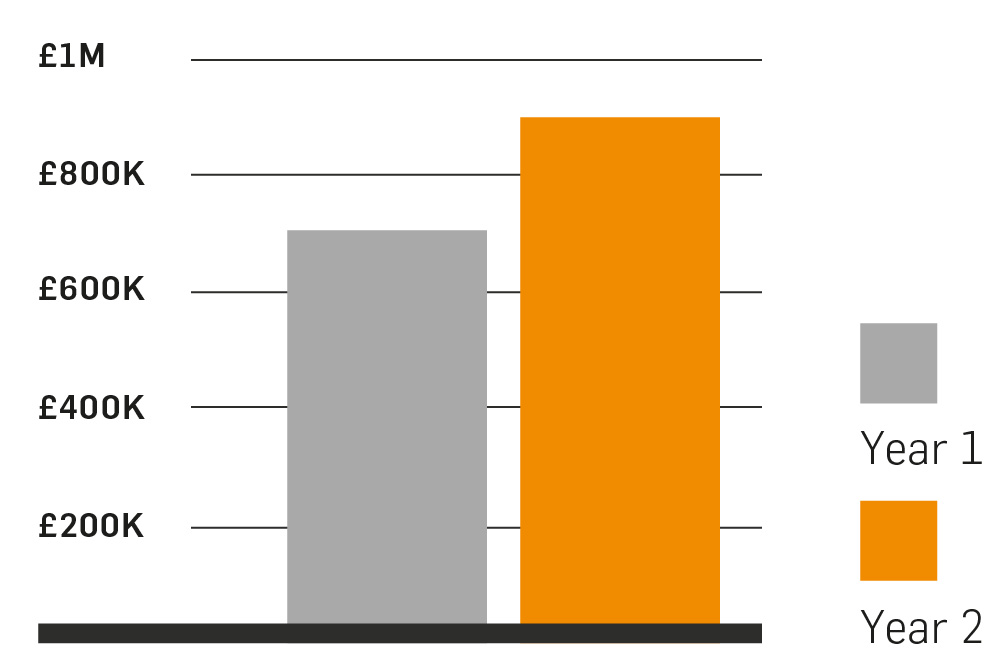 Team Example B
A change of strategy meant all staff hit their £100k target.
| Team | Year 1 | Year 2 |
| --- | --- | --- |
| Member D | 125,000 | 230,000 |
| Member C | 65,000 | 121,000 |
| Member B | 86,000 | 149,000 |
| Member A | 95,000 | 160,000 |
| Team Leader | 330,000 | 240,000 |
| Total | £701,000 | £900,000 |
Find out more about how your organisation can benefit from working with us