Improving Performance
Working with Sales Managers in a global engineering company to improve sustainable sales practices and drive business growth.
The Challenge
It's easy to make sales management complicated. Because they face both long term and short term goals, sales managers are constantly in conflict between urgent and important tasks. In general any one month's target should be almost achievable, but only with persistent direct effort. This can lead sales managers to pursue short term targets rather than building a sales team that delivers long term business results.
Without a clear time and effectiveness strategy sales managers focus on low value internal admin work or meetings with management, rather than investing their effort in improving the capability and performance of the sales team.
Forecast Accuracy
Sales managers' predictions have an error margin of over 50%
No Growth
Sales managers are often busy working on administrative compliance tasks rather than dramatic sales growth.
Faster Profit Impact
Sales Managers often focus on profit at the deal level. By shifting to a revenue focused growth strategy net profits rise at a greater rate.
Improving Performance
Increasing Engagement
Business Growth
Leadership Growth
Accelerating Development
Commercial Innovation
Optimising Effectiveness
Catalysing Change
How we helped
Our research conducted over 18 months showed sales managers in our client organisation used broadly two strategies.
Strategy 1
Disciplined routine following
Strategy 2
Opportunistic deal chasing
Each strategy has its merits. But strategy two has scalability drawbacks. Fine for a short effort with a few people. Difficult for sustained effort. Our client's business goal was consistent growth in performance. We trialed three different salesmanagement development approaches, and then scaled the most successful. The output was a programme targeting strategy 1 which was implemented on three continents.
We put together a three and a half day workshop built around a bespoke online/offline simulation modelling their company dashboard. This included keynote masterclasses on best practice. Feedback was provided to assist sales managers in making optimal choices about how to invest their time and effort. Participants reported back on sales revenue results at 50, 100 and 200 days after the workshop.
The Results
$2.3M extra revenue in a single branch
Growth in sales revenue YTD*
*Branch example: Six month time frame static market, same team, same pricing.
Improved morale amongst sales staff
Improved effectiveness of sales managers
Forecast accuracy error rates reduced to less than 10%
An increase in consistency of approach between sales managers
Post-completion of pilot our client immediately committed to phase two of the project for another 40 branches
Sales Revenue Six Months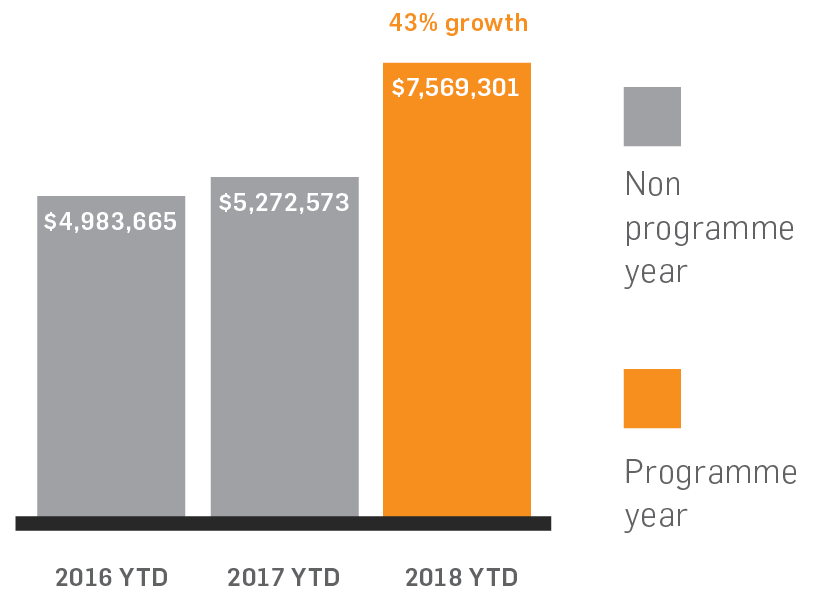 Find out more about how your organisation can benefit from working with us