A month ago, Jonna and I met with a client in Chiswick to discuss a potential away day for their team focusing on communicating next year's targets. They wanted Interactive Workshops to host the day so that we could engage the team in goal discussions and facilitate open, honest conversation that brought the practicalities of achieving a big goal into focus.
This is not an unusual situation we find ourselves in – organising an engaging team day with a specific required outcome. The difference this time that gave things a bit of a twist was that the individual pushing for this to happen as the new leader of this team hadn't actually started their new role yet!
Upon accepting the job role, they had planned to hit the ground running by bringing the team together in one place for a whole day. Always a commitment with a professional services organisation whose currency is billable time.
With the proactiveness and enthusiasm of this individual, we were sold on the challenge. The opportunity to bring a renewed sense of motivation to a team who are moving towards a big 2020 goal is always exciting.
During the design phase we decided on splitting the day into four sections:
People
Potential
Process
Priority
(and of course, an unofficial Playtime).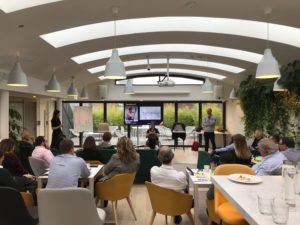 People
This involved taking some time to explore the psychology of goal setting in the workplace. We were joined by the inspirational Paralympic Canoeist, Emma Wiggs. Emma explained the difference between process, outcome and performance goals; she uses these daily to drive her to the start line in Tokyo. Explaining that 46.9 seconds is her target time to win GOLD next year, she identified the process and performance goals that she's working towards.
Concentrating on performance and process goals allows teams and individuals to break down the main outcome goals into more achievable steps. Then constantly reviewing progress against these different levels of goals helps make that end outcome become inevitable.
Attitude. Belief. Challenge. Emma reminded us all that we have the power to choose our attitude at the beginning of each day, we are in charge of our performance.
Potential
After taking some time to absorb the learnings from Emma Wiggs we turned our attention to the potential of this group. Firstly, sharing some theory, we then encouraged some frank discussion on the current state of the team. Acknowledging current frustrations and challenges is a crucial step before looking forward. The question "What could this team become?" was posed to the group and some exciting conversation followed.
Process
The ideas and dreams are great but how are we going to get there? This session compromised of four big and powerful questions. The team got to work sharing ideas and best practice around culture and communication, resources, pipeline and the rhythms in the business. The ideas generated here will form the process going forward, providing the framework for the team to step up to that next level of high performance.
Priority
What happens now? For anyone who has attended a similar style team strategy day before, we all know the usual format. Lots of great conversation but not much is implemented, and the fantastic ideas are quickly a distant memory. At Interactive Workshops, we endeavour to set teams up for success by avoiding this. Real commitments from the group with a high degree of accountability put in place help to ensure the learnings don't just stay in the classroom and a real impact is felt back at the workplace.
This quadruple P-style team day turned out to be an incredibly high-energy day thanks to its engaged participants hungry to make a change happen. There is nothing more powerful than a group of individuals committing to each other, clarifying their common purpose and making that run for gold.
So, in setting yourself and your team up for the next year ahead.
What's your 46.9?