With our dear friends from Spirax Sarco Engineering Talent, last night we were invited to the Training Journal Awards Gala and jointly won the gold award for Best Commercial Programme. Basically, the category for running a learning programme that has best demonstrated positive commercial impact for the business.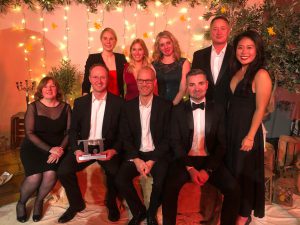 At Interactive Workshops we always strive for innovation in the Learning and Development space. We love truly collaborative relationships with our clients, and that is exactly what we have with Spirax Sarco Engineering PLC. After SSE PLC asked IW to create a high impact leadership development programme a couple of years ago, we jointly decided 2019 was the year to reap the reward (award!) of what we had created.
So why did the LEAP and DRIVE programmes  deserve to win the award, you might ask?
In our concepting phase for these programmes we noticed that while fast paced successful organisations already have great leaders, their skills are often honed around successful implementation rather than big picture growth and strategy. This creates a vicious cycle where leaders always feel behind rather than like they are ahead. These leaders find it difficult to slow down in order to speed up.
This is the foundation on which LEAP and DRIVE TOOLBOARD were created.
LEAP (Leadership, Excellence, Acceleration and Performance) is a global leadership programme running over 12 months that includes:
Pre-Work and 360's… a five-day intensive kick-off… business simulations and presentations to execs… regular ongoing coaching… webinars and a follow-up challenging three-day workshop. All of this based around an identified 'Leap' that each individual is making in their leadership journey.
The target audience for LEAP are high potential managers and leaders who have the raw talent to make significant steps in the next two to three years.
LEAP graduates have made immediate changes making some huge tangible impacts. One sales manager changed his approach with his team and saw a direct $41,000 improvement within one week of the programme! Another team leader found efficiencies directly from implementing learning from the programme that created an 83:1 ROI for his participation.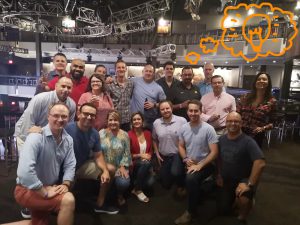 DRIVE TOOLBOARD is a business performance and people growth enabler that runs in six Agile sprints. DRIVE TOOLBOARD is modular and can be configured to suit any specific team. Through collaborative scoping, a bespoke pathway is created using leadership principles at the heart, to create a measurable business shift on a specific metric. This modular approach means it can be used for any team, anywhere.
The target audience for DRIVE TOOLBOARD are business units. The pilot project created an ROI of 50:1 in year one!
After years of work, last night, the TJ Awards panel decided that both LEAP and DRIVE TOOLBOARD were award winning programmes in the category of Best Commercial Programme. The Training Journal itself has been around for 50 years and has been advocating learning and development in the workplace since. The TJ Awards have been around for 14 years. Each organisation receiving a TJ Award is being recognized for its creativity, passion and hard work in the L&D world.
And that's what we plan on continuing to do. Our journey is just beginning. With 2020 just around the corner we are looking forward to another decade of improving people processes in businesses. We hope you are ready for us.
Give us a shout if you would like to work with a commercially focused award-winning L&D agency on your next big growth accelerator. Have a look through our Journal, telling the stories of our amazing Producer team and the incredible work that we do.