AFC Stoke Newington vs Headstone Manor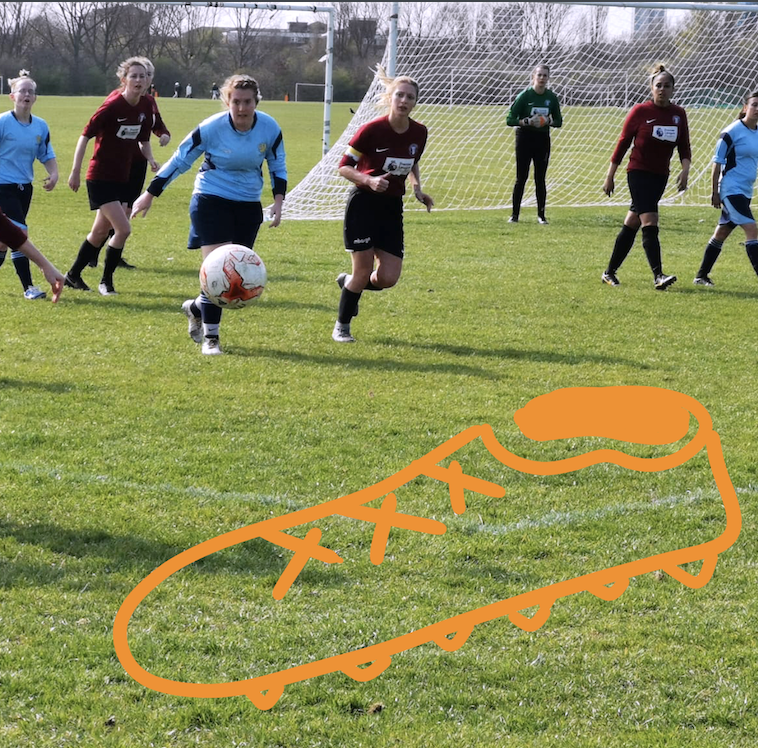 The stage was set for AFC Stoke Newington's season finale; the ground for once, firm under foot with not a puddle or mud bath in sight. With a large and strong squad, Stokey looked set to complete their incredible season with another win, hoping to cement their chances of promotion to Division One.
With slightly poorly playmaker Ciara Monahan providing excellent leadership from the sidelines for the opening minutes, Stokey got off to a strong start. Utilising the favoured high press and "Football Jesus" Keane Monahan's 4-3-3 formation, which has been so crucial to the team's success since implementation in the autumn. Stokey had all the possession for the first 30 minutes and after some excellent build up play from midfield, Emily Link's numerous shots on goal were saved by an on-form athletic Headstone Manor keeper. Everyone knew a goal was in the air, and as Naomi Scriven sprinted down the left wing, discarding defenders in her wake, she made an excellent last minute left foot shot on goal, only to be denied once again by the safe hands of their keeper.
Soon enough one of these saves led to Stoke Newington being rewarded with a corner, and an on form Stedrika Perkins coolly stepped up to deliver the goods. With pinpoint accuracy she calmly sailed the ball over the heads of the twenty other players waiting in the box and curved it gently into the back of the net. The keeper caught completely by surprise could only watch in amazement as a goal was scored right in front of her palms. With arms outstretched and a small smile Sted had announced with her feet that she was BACK and ready for division one. What an operator. This goal was just the confidence boost Stokey needed and within 15 minutes, Ciara Monahan had put in a cross which also was on target for another spectacular goal, but in the end was tapped in by the keeper.
Headstone realised they had to start pushing hard against the high press if they wanted to stay in the game and began some serious counter attacks, utilising their nippy forwards.  After a serious corner delivery, a classic goal mouth scramble ensued with various attempted clearances by defence being knocked straight back at goal until Emily Farmer pulled off an incredible headed save from the line.
After a strong half time team chat, Stokey continued to dominate, and a lovely long ball over the top from Phoebe Matthews found the magic feet of Emily Link, who finally found a way past the keeper, by floating a beautiful shot straight over her head, plopping it gently down in the back of the net. It was a classic Emily Link goal to end the season, showing why she is not only AFC Stoke Newington's top goal scorer, but second in the whole league only to Walton Casual's Kelly-Jade Phelan!
As the second half progressed, Headstone began to really push back, this was not a team to go down without a fight. They scored one goal shortly after Link's and from then on the battle really began for Storey's defence. Polly Adams proved her worth as Stokey's Safe Hands No 1, pulling off not only some great catches but clearing danger with her feet also. Player of the match here was duly deserved, and without her calmness and leadership at the back, Stokey would undoubtedly have conceded further goals.
A final goal from Headstone against a Stokey team who had dug in deep in defence made it 3-2 but once again the grit of our club prevented the opposition from equalising and AFC Stoke Newington finished their promotion campaign with another well-deserved 3 points.
The team and fans now can only watch for their nearest challengers Enfield Town, who have 3 matches in hand, providing a nail biting wait to find out if Division One will be their new challenge next season.
A note from club captain and IW Producer, Emily Link
An incredible year for AFC Stoke Newington has seen the club grow from turning out with 9 or 10 players a match to having 4 subs on the bench and plenty more quality waiting in the wings! A hard job was done by Alice Nutman as manager this year, and we thank her for her graft in keeping the club going, and getting us into an incredibly strong position for next season.
A huge thanks must also go to Interactive Workshops for being our sponsors and number one fans!