New Year's resolutions seem like a thing of the past now, don't they?
Studies have shown that 80% of us have given up on our resolutions by February. (I said I would go in the gym every day starting on 1st January, anyone else?) At our January SpeakEasy, we discussed ways in which we can make our new goals come to fruition rather than failing within the first couple of months of the year.
At IW, we are dedicated to helping executives in major companies grow, develop and push themselves to achieve. To get better results than they ever have done before. We do that by creating new, innovative workshops, trainings, magazines and more. We're obsessed with doing things that are excellent, enjoyable and stretching – creating inflection points. As a result we know quite a bit about setting goals and the steps to achieve them.
Facilitating the workshop we had our CEO, Jonna and one of our brilliant consultants, Emily. Both coming from different backgrounds (Jonna trained as a cognitive scientist and Emily as a teacher), they had many different stories to tell – both personal and stories of others.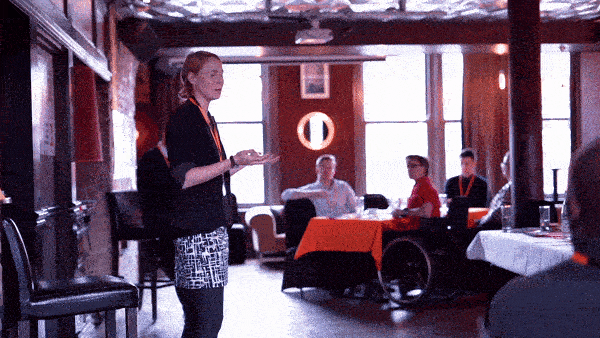 One particular story shared was that of Rich Alati, the man who – in a bet between poker players – was offered $100,000 if he could stay shut in a pitch-black room for 30 days. Rory Young agreed to give Alati the sum if he could last the full 30 days in a soundproofed bathroom. No light, irregular meals (so as to not give an indication of time), no TV, radio, phone, etc. No access to the outdoor world. Failure would mean Alati paying Young the $100,000. Alati took him up in the offer.
After 15 days, Young realised Alati was serious. Via a loudspeaker, he made Alati an offer that he could leave the bathroom and only owe Young $50,000. Alati said 'no deal'. There was no way he was giving up on the goal and paying Young anything, having made it to the halfway point.  A further follow-up offer a few days later was in Alati's favour – a $25,000 payout. Alati again declined. After another few days and through some further negotiation with Young, Alati left the room after 20 days, $62,400 richer.
Although I don't personally plan on putting myself through what sounds like torture, the story explained how simple it can be to set yourself an incredible goal and then achieve it. After the challenge, Alati explained how he hoped that his story can prove to anyone that you are able to overcome any challenges, even in a world of bad news.
I can't imagine that being in a completely dark room on my own for a month holds much excitement or even any distractions. But imagine if we could focus on our own goals like Alati could on his. Not just stating a thing we'd like to give up or do less of, but having a goal that we've made step to achieve. Planned out time in the diary. Acquired the skills we need. De-conflicted our priorities in advance. Given ourselves a self-pep talk.
It's not every day you get to be inspired by a six-time paracanoe world record holder on how they achieve their goals. However, we were delighted to have Emma Wiggs MBE join us at SpeakEasy. She provided expert techniques in order to achieve the targets we had set ourselves. After a mystery virus impaired the mobility in her legs, Emma described how she had to manage this change and harnessed her other strengths that she didn't know she had. She has gone on to become a Paralympic gold medal winner and six-time World Champion paracanoeist in the women's 200m KL2 class.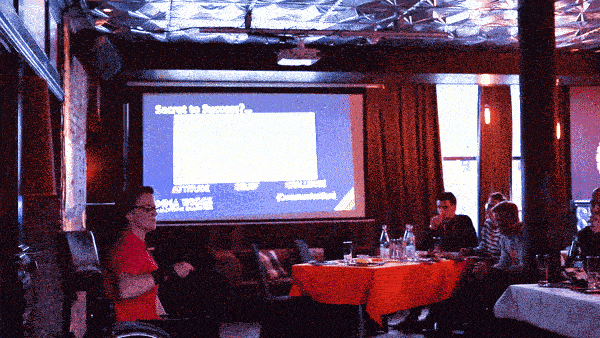 Hearing Emma speak with such composure about the challenge of getting herself prepared for Tokyo 2020 gave everyone in the room valuable insight. Rather that having resolutions that fail, we've now got goals we know we can go and get.
Personally, my main takeaway from Emma's brilliant keynote is that she strives to "thrive, not just to survive". This is something I'm applying to the challenges that we face here at IW. The goal could be to contribute towards a more positive office culture. What would thriving look like today, in this situation? I've given up on my resolution, but I'm set to get my goal.