Have you ever wondered what happens when you take 14 high performing leaders from a FTSE 100 Engineering company and ask them to write a book on Leadership in just 30 hours?
I imagine not, but I can assure you the things you see during an experience like this can change your views about leadership forever.
Last month, in Nashville Tennessee, I had the opportunity to do just this.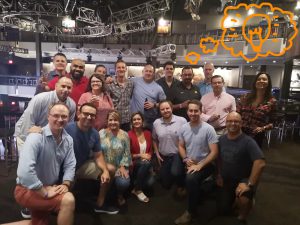 Here's how we did it…
Our 12 month LEAP Leadership Training Programme is something I am very proud of. The premise is clear: we aim to give Spirax Sarco Engineerings' most promising leaders the tools, the support and the belief to take the "leaps" required to create the next chapter of sustainable growth for that company.
We do this across three continents, running three programmes a year, to make a truly global impact.
The Americas programme started in Miami six months prior to our Nashville adventure with five days studying a collection of different ideas on leadership topics covering Mindsets, Entrepreneurship, Agile Execution and creating Performance Cultures. All of this theory is put into practice as they work to tight deadlines to create a presentation to Senior Executives by the middle of the week.
This week is intense, and feedback is in constant supply, as each delegate seeks to understand more about the theory and application of both commercial and people leadership.
Connections are made and sustained in the six months between the two LEAP sections by a series of webinars and coaching sessions, all geared to help the individuals apply the theories and leadership language they have learnt to the challenges they are facing in the real world.
When the group is reunited for the second part of the LEAP programme (this time, in Nashville) they become a community of leaders with a collection of shared memories.
Whilst the familiarity between the delegates and the Interactive Workshops delivery team can lead to a higher level of trust, it also brings the danger of complacency. Something that can prevent learning.
That's why we always choose to do something completely different for the second part of the LEAP programme.
Something so different that it is the last thing a collective of Engineers would expect to be asked to do over the three day leadership course in Nashville.
The task: to write a book about Leadership, collectively, that says something only they could say…
As I am always clear to point out on the first day, "Writing a book on leadership is easy. Writing a good book on Leadership is the tough part."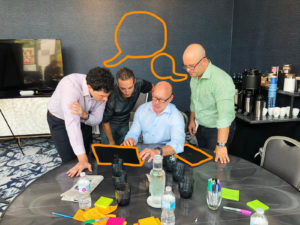 So, what was my nugget from Nashville after facilitating this particular three day LEAP workshop?
I learnt that outstanding leadership can be facilitated and made far easier if others are committed to supporting its success. Successful LEAPS need not be done alone.
This cohort of strong, confident leaders from the Americas discussed how they wanted to work as a team on our first day in Nashville. "Collaboration" and "giving a voice to everyone" were behaviours and values they agreed on and were challenged to take to a new level during their time in Nashville.
As they got to work on the challenge, I noticed something different about the group from our first experience of LEAP in Miami. The stronger leaders were stepping back, and the more reserved members of the team had been nominated to lead certain sections of the project. Not only this but they were also supported, listened to and allowed to lead well.
Sure, an outstanding book on leadership got written over those three days, but the most important lesson for me was that with the right culture, leadership can flourish for everyone. The nugget I truly gained from Nashville was that leadership truly is a team sport, and if the team are behind you, everyone wins.
This culture of support took leadership from many different levels. More vocal members had to step back and listen more, less vocal members had to step up. Observers had to speak and doers had to observe. What was created was a truly diverse and powerful team of leaders who created a genuinely insightful and powerful book.
In reflection, a leap can often feel like it is something we all do alone. That lonely, and sometimes terrifying, jump from the known to the unknown. The truth is that any successful leap is preceded and followed up by a network of other leapers who had perhaps done a similar thing and were watching you, and willing you on, all along.
Perhaps the most important thing to do before leaping anywhere new is to 'look'. Look for the support that can make a genuine leap feel like just another step.
Now that would be something to write about, wouldn't it?