Last year, my brother had signed up to do the RAAM (Ride Across America) as part of a team of other cancer survivors to raise money for the charity he is a trustee for (shout out to Cyclists FC – find them here: www.cyclistsfc.org.uk).
They raise money to buy bikes (or adapted bikes) for children to are having or have had treatment for Cancer – and promoting exercise as a positive part of rehabilitation. They sometimes buy bikes for siblings so they can all go out for a family bike ride together – if that's what's needed.
I didn't really realise what a big deal it was – it was part of a large organised event. As I looked at the website which would track the teams progress, I realised – this is BIG.
When to drop everything
My parents and his wife had tickets to go to New York to meet the team at the finish line. Shouldn't I be there too? But due to Jonna's work, I couldn't go. But I realised I could be there by the weekend…. leaving today.
I came to the office at 11am. Tickets were booked and I flew out of Heathrow at 3pm. Some things – especially family – are worth dropping everything for.
Sometimes this is hard. By being there for my brother, I'd left the kids.While the kids were at school, their mother had left the country.
Jonna asked a colleague what was the best way to tell the kids and he said 'buy them a milkshake'.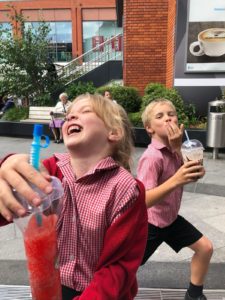 Have a milkshake day
The offer of a milkshake was extended to the whole company. And now it's known as Milkshake Day. Every year we'll buy the company a milkshake. It's been one of the most talked about events in our calendar.
Sometimes mum drops you off at school and is on a different continent by the time you leave the school gates. Sometimes you've been working flat out and there seems like no respite. And we all have bad days. We certainly all miss our mums, whenever we last saw them. So have a Milkshake Day. Cheers!