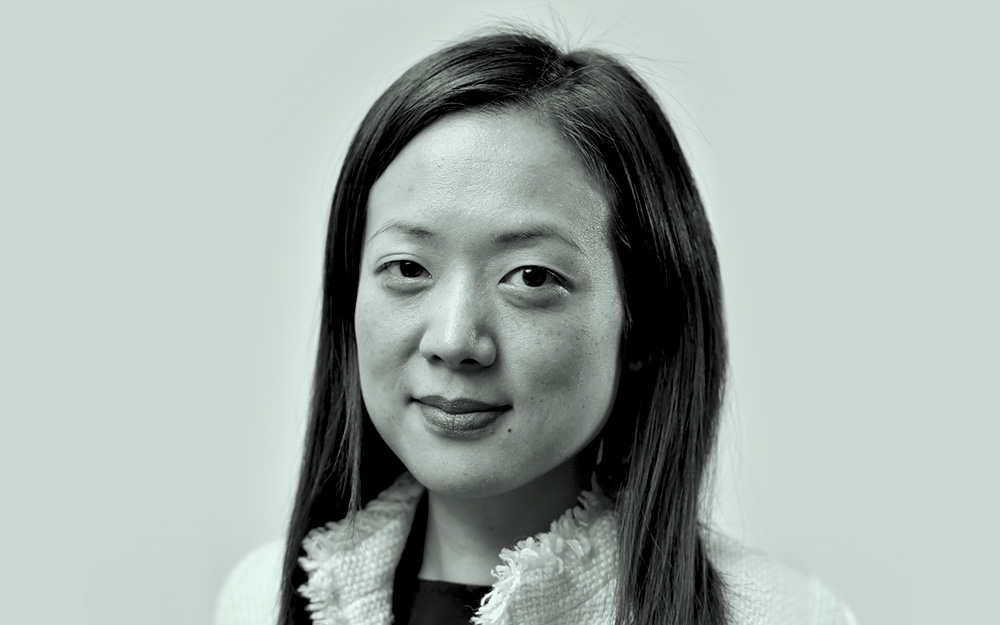 Karen set up her first business aged seven, selling rocks from her parents' garden as paperweights. She has continued to apply her brand of enthusiasm, curiosity and ability to inspire others into her work as a consultant in the banking and financial services industries. 
Karen has extensive experience of advising on the implementation of multi-million dollar and multi-disciplinary projects across global teams for firms such HSBC, Barclays and Morgan Stanley. They would cite Karen's frankly remarkable ability to engage positively with one and all, flair for bringing together ideas and people to solve complex problems, and amazing determination to get the job done.
Most recently, Karen was a partner at Crossbridge Consulting. Karen's drive to lead and inspire diverse teams reflects her own international background as well as her astute and perceptive management style.
What's leadership to you?
Leadership, culture and learning are the trifecta to an amazing workplace. They result in us forming engaging relationships, which fosters an environment of creative innovation and high performance. Leadership is no one individual, or an organisation chart with layers, but a creative web of relationships. The growth and development that supports learning is generated by people who are followers of leadership and cultural stewardship.
What's workplace culture to you?
As we know, relationships in the workplace are ever evolving and as complex as the workplace and the individuals in the organisation. Relationships, therefore, continually evolve through the ups and downs of company growth, creating a trail of shared history. This trail is an important web of culture that will sit behind a successful organisation, a history of social events, difficult times, and times of celebration. It is this shared history that can help a company become even more agile, take on more risk and achieve even greater performance. This can mean a company relies less on what can sometimes seem like overbearing structure and processes. From recruitment to crafting innovative deals – we can do it better if we have the experience to draw upon. We can ask ourselves: what went wrong and what went right? This doesn't mean we re-invent the recruitment process every time, but that we are engaged and aware – mindful for improvement.
"Their aim has always been to engage, develop, innovate, personalise and lead the way to new eras, champion a passion and explore new territories."
What's learning to you?
Learning for me, as a senior leader in industry, means creating a culture of collegiate challenge and responsibility, and an environment of innovation. Creating this environment provides a space in which people can be rewarded and recognised for driving forward growth. This means growth in the business, growth for themselves and growth in their colleagues through their collaboration and generosity in creating a learning culture.
Creating these environments brings to mind laboratories and studios across the centuries where some of the greatest scientists and artists have explored their creativity and passion for learning. Their aim has always been to engage, develop, innovate, personalise and lead the way to new eras, champion a passion and explore new territories.
I recently went to the Modigliani exhibit at the Tate Modern, London and was fascinated by the space that Modigliani had created. Modigliani moved to France in his early years, and as such, allowed both his physical and virtual environment to stretch his art form, creating an inspired learning environment. He surrounded himself by people and early supporters of his talent, from art buyers to fellow artists and models, all of whom helped him to adapt and find new styles of painting and of personalising his art form.  Whether he was exploring the techniques of Cezanne or spending two years making sculptures before returning to his now infamous portraits, there's no doubt that throughout his 34 years he was always learning, honing and discovering.
A learning environment takes us into new territories, both personally and on a grander scale, with an element of risk or fear of failure which spurs us on to learn. More often than not, we build barriers in our learning environments to stop us from failing, sometimes to the point where we constrict our own learning and growth. Barriers that are are imagined within ourselves – fear of disappointing others, or statement barriers of "I just don't have enough time" – yet we know that time is equal to us all. Barriers aren't right or wrong, but they do need to be rather like the umbrella I'm always wishing I had brought out of the house with me – quick to unfold in a downpour ("feeling stressed") and quick to fold and dry when its sunny ("on holiday"). This brings me back to Modigliani, the first painter to realistically paint the female form (rather than an imagined form, as seen in more established artists such as Botticelli). This resulted in the police commissioner trying to close down his only solo show in 1917.
I'm encouraged to see that the next generation are being taught to learn. It seems like an odd statement to write, but I see it in practice. Children now are encouraged to become independent learners, take learning risks and look at failure. Last night I went to my daughter's parent teacher evening, never expecting to get much out of the 10 minute slots allocated with her tired teachers, yet every time I come away filled with admiration for the teachers' dedication and how they are approaching my daughter's learning on an individual level. It was inspiring to hear her English teacher speak of her extraordinary creativity in her writing which should not be bound, despite lazy grammar.
And so I approach today unbound, with my umbrella folded, and I look forward to expanding my learning environment… Next stop landscape archaeology, perhaps!