Living through lockdowns, transitioning to remote or hybrid working environments, the "Great Resignation…" the past couple of years have been full of change for all of us. We've all been placed in situations where we were forced to adapt and establish a "new normal" in a very short period. Now that the world is opening back up, we're placed in an interesting situation. Maybe we got used to our new routines? Maybe adjusting to change made us realize we wanted an even bigger change in our lives? I know the latter is something that I realized I wanted for myself. After a few months of job searching, I landed my position here at IW. While I was very excited to begin this new chapter of my life, I also found myself feeling all sorts of emotions during this transition.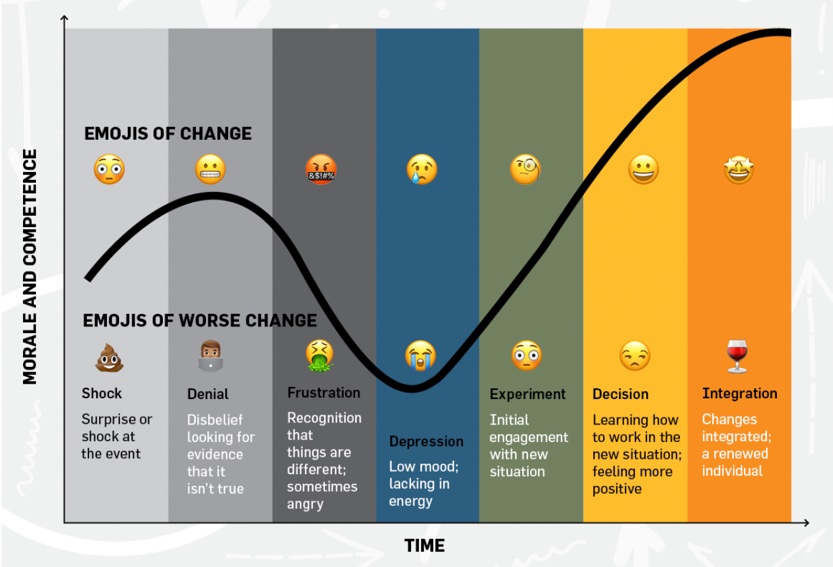 Enter the IW emojis of change, a visual representation of change inspired by the Kubler-Ross change curve. This is a useful tool to help us all navigate the emotions that come with making a big life change.
Stage 1: Shock
The first part of the curve is when the information is so new, it may not feel real yet.
Stage 2: Denial
This phase leaves us second guessing ourselves and even feeling skeptical about what's to come.
Stage 3: Frustration
A lot of comparison can happen here. We may continuously look back and try to find the positives in the old way of doing things (even though we recognize that we are in this new position because we knew something needed to change)
Stage 4: Depression (aka. "The Pit of Despair")
This phase leaves us feeling sad. We may feel regretful or incapable to adapting to this new change. Sometimes this phase can leave us feeling as if we're in bereavement. For me, this was when I was mourning the loss of my old job title, which was more or less my identity the past 5 years.
Stage 5: Experiment
This is where we start to learn more about the new opportunity in front of us.
Stage 6: Decision
This phase is where we really start to get excited about the change we've made. We feel more hopeful and are getting settled into a "new normal."
Stage 7: Integration
We are looking towards the future and feeling a strong sense of stability. Congrats! We've rode the curve from start to finish!
My journey with the change curve
I was introduced to the change curve on my first day at IW. In the weeks between my job offer and my first day of the new job, I found myself going through the first four stages of this change curve. Before day 1 I did not know a tool like this existed. There I was, fighting with all these emotions that left me wondering if I had made the right decision in the first place. I knew I wanted a change, but was this going to be the right fit? Once I was able to understand what I was feeling was normal, I began to feel more comfortable with my decision. After a couple weeks of learning new things and settling into a new routine, I am happy to report that I am on the right side of the change curve!
The change curve is a useful tool to understand and recognize the emotional responses we have towards change. I have adapted to my "new normal," and fully believe the best is yet to come. Just as the change curve as helped me in my journey, I am confident it can help others transition to a "new normal" as well.