Have you ever had that moment when you hear something you've heard before (possibly many times…) but this time it really sticks?
I had such an experience on Friday. A few of us went in for a hugely enjoyable meeting with a fantastic agency (and hopefully new client!), and were discussing the options of how to engage with their management population. In conversation, the dynamic of expert 'doers' becoming managers came up. I honestly can't tell you the number of times this sentiment has arisen in conversations with clients and workshop participants over the years, but it's a lot.
So on the Piccadilly Line back to the West I tried to think a bit deeper. In fact, very deep for a Friday afternoon… Most of our clients are successful, global brands and yet there is an overriding sentiment that vast swathes of their managers are managing people simply because they were either the longest serving or the best performing individuals in any given team. Can this possibly be true? Surely people management is so key that you have to have some knack for it, be trained in it, or have it as a priority in your own annual performance metrics. Otherwise, is the whole management question a lie we're all buying into?
Gosh. What sort of can of worms is this?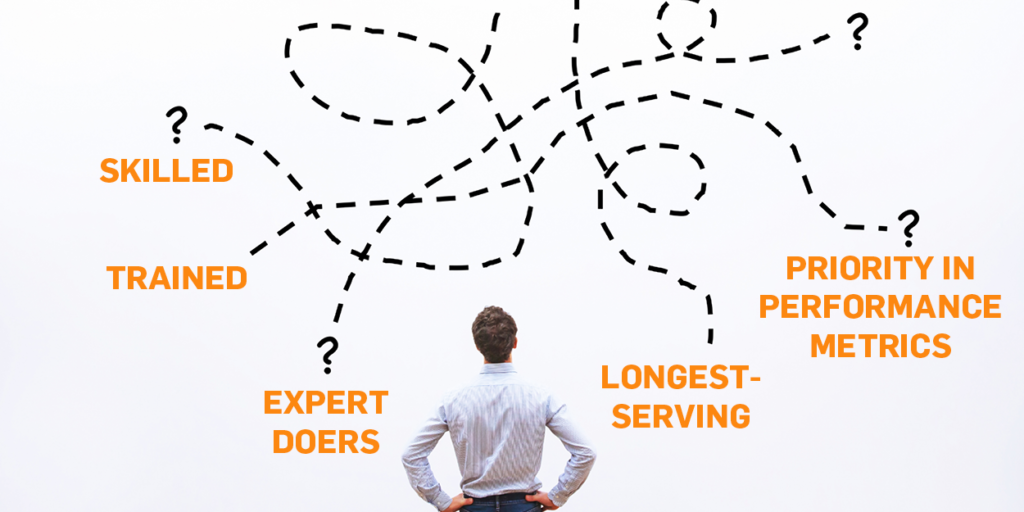 You can't manage people
A few thoughts came to mind:
Perhaps these excellent 'doers' are exactly that. Excellent. They can get by in management roles doing 'good enough' on their general ability.

Perhaps a general workforce is more affected by overriding business culture and performance norms rather than the difference an individual manager makes.

Maybe it's all true and all of these businesses would have less turnover of staff, higher engagement, and stronger business performance if managers were better suited to their roles.
To get some feedback, I carried out a straw poll in our office. The complex question was:
"Do you think people management is important?"
The answers were varied from 'maybe' all the way through to 'absolutely!', but there was a clear red thread. The elements of growth, development and support are key. I guess if these come from someone in a management role then the role is important, but it's also critical that managers either innately have, or are equipped with the skills to focus on these aspects with the people they manage. With this in mind, I was instantly reminded of the words of another client:
"You can't manage people. You can manage process, but you have to lead people".
Perhaps that's the sweet spot?

Lead, don't manage
Excellent doers can absolutely manage people successfully. They may just need to think of themselves as leaders of those people, not managers. Managing someone may well not appeal to someone who has a strong desire for and track record of excellence in performance. It could sound like a chore, an extra on top of the job role.  However, becoming a leader, becoming more than you've been before by being able to harness the person power that reports in to you; well, that's a different proposition altogether.