It's a great word isn't it?! Just feel it… you can do that which previously you had only been able to aspire to do.
Our working relationship with Savills goes back some four years or so now. It's one that we are hugely proud of, and one that I personally have found hugely rewarding. It all started with some formative conversations helping to shape up what management and leadership development could look like for the business. Four years and about 50 individual projects later, I found myself running Empower with Susan Rimmer and Matt Trinetti last week.
It must be a couple of years ago now that I had a conversation with Ruth and Ursula from Savills about what ideas we would have about revamping the foundation programme in their suite of leadership programmes (Empower). The course is all about personal leadership. How I can be the best version of me? What I need to do to have a successful career here? How I can be more personally confident, effective and prioritised? We discussed many other topics of that nature.
Anything but boring
I had a moment of reflection after last week, and realised that the Empower programme has probably been one of the most rewarding journeys I've been on myself in the past couple of years… irrespective of how it may have been for any of the participants!
One of the probable reasons is that I'm easily bored. A lot of workshops are with similar numbers of people (a group in the region of 15 people), using some great interactive processes, but largely based around some core information on some slides, and then work on the back of that information. Empower isn't that.
Another reason is that when we proposed something a bit 'different' to the norm of Savills experience and expectation, they said "we love it". I know that if we didn't have the trust and level of relationship we have built up, a programme like this, which has been a true partnership between agency and client would never have been possible.
"Friendships formed on this programme will carry on for years to come."
Networking was a key topic. However, rather than just running a networking training session we thought "why not design the programme to let people actually network the whole time". The target audience don't want the 'same old' stuff. So, why not create a self-lead pathway where people select topics relevant to them? Then make a big buzz by making it feel like an event rather than a training.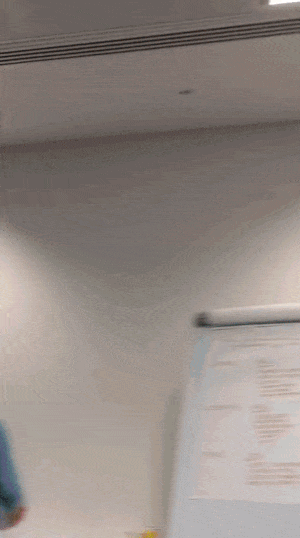 I now get to regularly run this programme. It consistently brings together around 35 young, enthusiastic, hungry, intelligent Savills employees for a shared experience of growth, network building and challenge. I love that friendships formed on this programme I know will carry on for years to come. Connections created in these two days allow the business to continue thriving. Moreover, that I know every time I run it I will have a conversation along these lines:
"Thanks so much for everything your team has done here. You guys are really inspiring… but the main thing I've really enjoyed has been meeting so many people from all over the business and discovering that people in really really different areas and specialisms face similar challenges to me every day. Our coaching group have already shared numbers and arranged to meet up again."
That's exactly what Empower is supposed to be. It isn't about what me or my team bring (of course, everyone is always lovely and makes a point of thanking us). It's about creating the right dynamic for people to stretch and grow personally, as well as creating a network of support and connection that will stay with them long after Empower is 'something they did a few years ago'.
So, here are a few lessons that I've enjoyed learned through Empower.
Great clients to work with are valuable. Cherish them.
Push yourself and others to design brave and bold interventions.
If you want particular outcomes. Don't just train those topics…design the programme in the right shape to ensure those outputs will be a natural consequence.