Smarter Sales Teams
Partnering with a market leader in US building restoration services to establish a consistent sales process, accelerate sales skills, and drive business growth
The Challenge
Quality building restoration is always in demand. Yet, companies charging premium prices for a high quality service face stiff competition from low-cost providers entering the market. Knowing they can't compete on price, these firms need to be able to help customers understand and quantify the value of selecting a higher quality product or service. Add in aggressive growth targets, and even sales managers with a good track record need a different approach and mentality and go out and proactively win new business in new market verticals.

High Cost Service
Cost is often a sticking point for deals, yet it's seeing value – not discounts – that help a customer rationally choose a provider more expensive than its competitors.

Limited Support
As sales managers have highly measurable targets, performance is always under scrutiny. Yet many organisations fail to support their salespeople with necessary training.

Aggressive Growth Targets
To achieve commercial success in a competitive industry, sales managers don't just need to sell faster, but sell smarter.
Improving Performance
Increasing Engagement
Business Growth
Leadership Growth
Accelerating Development
Commercial Innovation
Optimising Effectiveness
Catalysing Change
How we helped
Our research included 1-1 interviews, focus groups and a custom-built sales diagnostic to assess skill levels. Sales Managers were given an initial self-assessment at the beginning of the program to form a baseline. The analysis showed that this organization needed a new focus to better match its efforts to its customer's buying cycle.
Having identified the skills gaps, a custom sales development program was created to ensure sellers at all levels could effectively accelerate their sales efforts. Together with the client, we established a new sales process, one that was tailored to this industry and visualized both the seller and customer journey. Bespoke workshops, email snippets, quizzes were designed to complement this new selling process.
Over four months, sales managers attended bi-weekly virtual workshops to engage in discussions on how to realistically apply selling skills in their ever-changing world. Tapping into the competitive nature of a sales manager, our concept put participants into small teams with weekly sales challenges that were scored on completion and contributed to the team's position on a weekly fantasy sports-style leaderboard. Additionally, leaders were provided with targeted guides on how to continue the conversations started in the workshops with their teams.
Sales managers who completed the program took the same diagnostic after the program to assess how their skills had improved. This chart shows how participants rated their skills higher across all areas after the programme.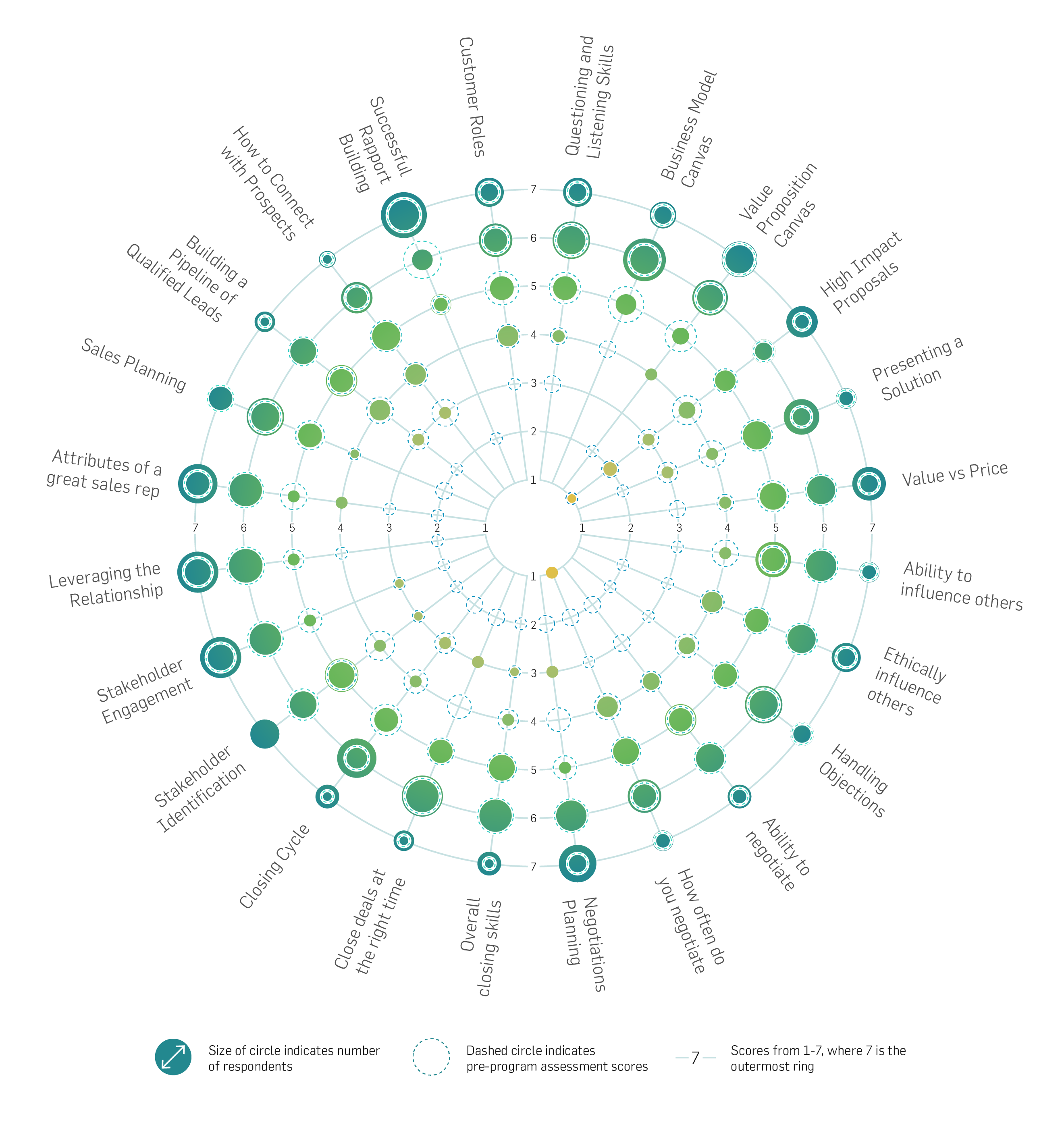 Specific achievements in teams whose leader attended the programme:
overall increase in selling skills
improvement in closing skills
improvement in creating high-impact proposals
improvement in proposal presentation skills
improvement in negotiation planning skills
improvement in questioning and listening skills
Find out more about how your organisation can benefit from working with Interactive Workshops