Expert webinar series for all.
Concepting. Designing. Delivering.
At the start of lockdown many organisations were suddenly forced into remote working and the prospect that all face to face training and events would be cancelled for the foreseeable future. This left many wondering how to maintain engagement with their employees and continue development in the 'new normal'.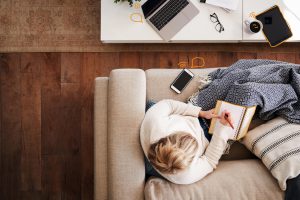 One client got in touch with us after their employee engagement survey revealed that just two weeks into lockdown there were significant challenges to overcome: more social isolation, more communication barriers and a lack of learning opportunities. We knew that timing was critical, so we jumped straight into understanding more and discussing the various options with them. Our experience with populations who work remotely brought insight to this situation and a variety of possibilities. The scoping and consultation process went on to inform the solution; the creation of an expert webinar series to fit around the day-to-day realities of lockdown that colleagues could adapt to suit their own home and work priorities.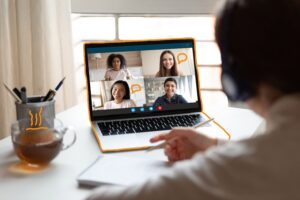 We pride ourselves on being an agile agency, so in just under a week we designed twelve expert webinars focusing on a diverse range of topics; management, leadership, high performance, wellbeing and uncertainty.  The webinar series was delivered by expert Producers on the Interactive Workshops team and there were sixteen opportunities for people to engage. Each webinar focused on being professional, honest and transparent, whilst sharing a variety of insights with practical application back to the real world.
899 people attended the webinars delivered across the week, involving 19 of the company's subsidiaries across Europe. One element that surprised even us, was that as word of mouth spread across the organisation, and people got used to the rhythm and regularity of access we saw more and more people join us for the sessions as time went on rather than appetite tailing off. It was a huge success.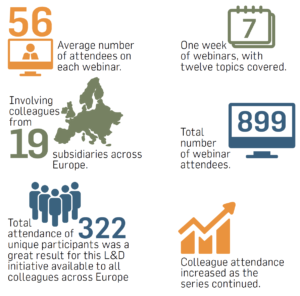 In fact, it was such a success that it prompted our thinking and innovation. We've decided to make it bigger and better. We want to offer unlimited live learning for everyone.
It's called PlayBook and it could be exactly what employees need right now. PlayBook is our response to COVID and the ways we now have to work. Just because our offices are now our homes, doesn't mean the learning has to stop. This is the perfect opportunity to engage a wider employee base in learning and give people the connection and learning they are asking for. With over 40+ industry leading live workshops every month, and no limits on participation, PlayBook is the ultimate solution.