Read our previous diary entries here:
---
Let's be honest. The novelty of our new circumstances isn't lasting. As we brace for a lockdown scenario that seems likely within days, we're not feeling great. A few of the team travelled last night or today, to get to where they want to be. Right now, work seems like the least important of the important things.
Our 10am check-in reflected that. So, to raise our spirits, we started a new daily ritual: squats. Live on zoom, we're doing as many squats as the number of days we've been in isolation. Today that's four, but who knows how many we'll be doing on the last day we do this?!
We're missing each other. We're missing the office. We're even, just slightly, missing the commute. We're all moving along the change curve at different paces. Most of us are still in some state of shock and haven't quite processed all of this just yet. Some of us are moving through frustration or maybe near the most depressed part of the process.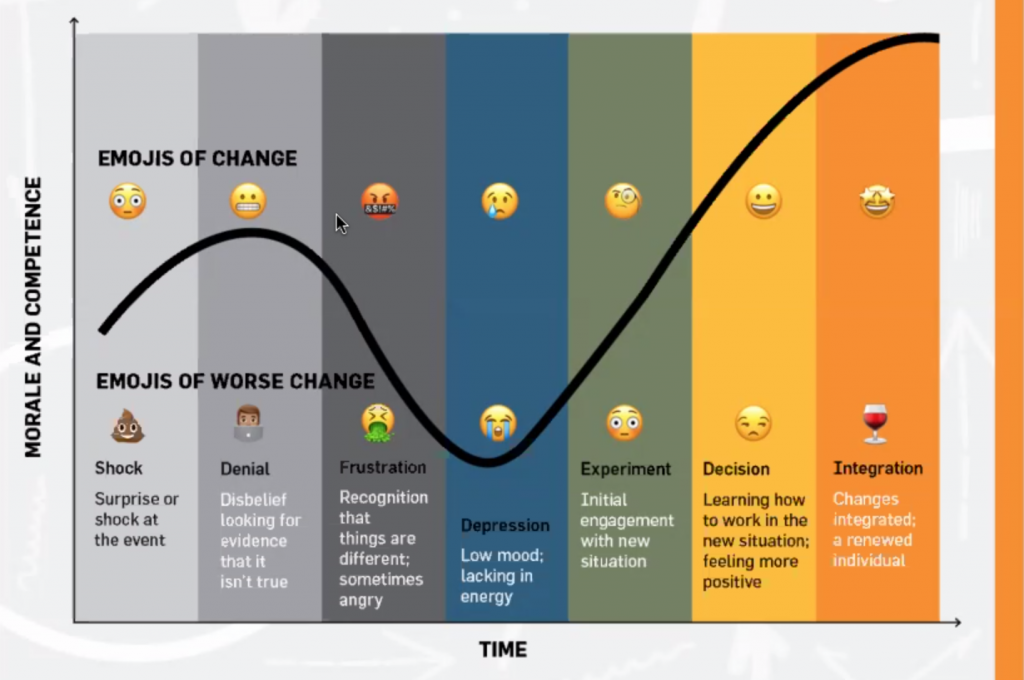 It's a reminder of two things:
1. We're all going experience low mood or lack of energy
Each of us will experience drops in mood to different degrees. Maybe now, maybe later. It might come in waves or hit us in one moment, maybe when we didn't expect it. Maybe the weekends will prove tougher than the WFH week. An awareness that low mood is part of the process – rather than a step backwards or pit of despair – can help us move forward to process change and head towards positivity and renewed energy.
2. Supporting each other only becomes more important
In our team, company-wide support has been offered from various team members in the form of availability to chat, transport help to get everyone where they need to be, offers to bring essential items to the door, and the opportunity to have homemade anti-bac gel shipped to our houses. The self-sacrificial support of others can move us through the lowest times in isolation. As we move through this time of uncertainty and day-by-day change, we'll increasingly need this incredible kindness, love and support.